January 01, 2022
Let's face it, as women we get looked over in the sweat department. But boy, can we sweat. You hear about swass (sweaty a**) and the misery from that, but until you have experienced sweaty boobs on a hot day, you haven't experienced true misery. At Squeaky Cheeks we get it and we actively came up with a solution that would provide true Comfort, even on the hottest days, with an all natural boob sweat remedy.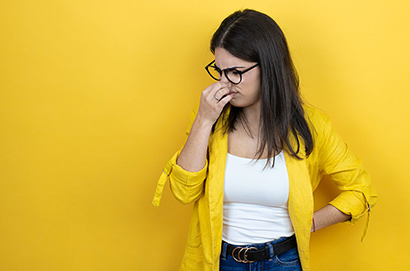 Use Squeaky Cheeks 100% all natural high-performance Body & Foot Powder to tackle the New Year odor free and comfortable
How To Tackle The New Year Odor Free and Comfortable? The New Year is here in full swing. How are your New Year's Resolutions coming along? Are you conquering your mountains? Have you written down your goals and dreams for 2022? A go-to resolution for many is to get active, lose some weight, and ultimately get healthy. All of those things have a few things in common. They involve getting sweaty, stinky, and sometimes chafey. Squeaky Cheeks is here to help you stay comfortable making it easier to achieve your resolutions.
New You, No Stink! Start your New Year Odor Free
We are so proud of you for getting up and making a healthy lifestyle choice. Creating healthy habits is no easy feat. Avoiding the stink that comes with those healthy habits is no fun either. Squeaky Cheeks Active is your go-to. It smells amazing, it's all natural, and it's meant to keep you comfortable so you can keep up the hard work. Good news! You no longer have to worry about doing that sneaky armpit smell test. Using Squeaky Cheeks will make that smell a thing of the past. When you try out Active, you will understand. Yay, essential oils! Do yourself a favor and start your New Year odor free and comfortable! To learn more about the story of Squeaky Cheeks you can visit our About Us page.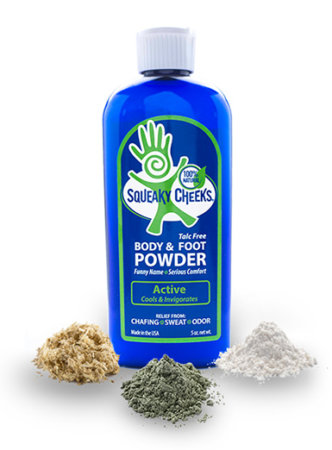 Skip The Chafe
That nasty skin irritation that you get when you're sweating and your skin is rubbing together or worse, your skin is rubbing on your clothes, is awful. Chafing is not for the weak and it definitely should not be a part of your daily activities. The all natural ingredients in Squeaky Cheeks are here to save the day. The ingredients work together to create a barrier between you and the ouch. Bonus-while it's keeping you comfortable, it's also healing. Those antibacterial properties make all the difference.
Sweat No More
The usual go-to for sweat when you're working out is deodorant or a towel, right? Bad news, unless you are using an all natural deodorant, there are actually really harsh ingredients and chemicals in antiperspirants. Don't even get me started on that smelly, moist towel. Ewe. Squeaky Cheeks is meant to wick away the sweat. Put it in your pants, in your armpits, on your thighs, and really anywhere you don't want to sweat. The best part is that it doesn't turn into a pasty mess. It actually keeps the sweat off so you can go after that workout, moisture free.
At Squeaky Cheeks it's our job to take the stink, sweat, and irritation out of the equation. It is our goal to make sure you are completely satisfied on your journey to a newer healthier you. Try Active. It will change your life, your day, and your routine. You will think we have magic powder over here. It will make your workout just a little easier and make that mountain seem a little less high. If you haven't yet, do yourself a favor and check out our different blends of Squeaky Cheeks 100% all natural high-performance body & foot powder to start your New Year odor free and comfortable!